Hello Freedom Riders,

My name is Officer Jeffrey Boiselle of the Waterford Police Department.  I am writing this letter on behalf of the family and friends of Daniel Brigham.  We would like to extend our most sincere thanks to the members and officers of the Freedom Riders for your assistance and participation in our first annual Daniel Brigham Motorcycle Run.  This event was our first, and was a complete success due in part to a club such as yourselves who provided your attendance and support to honor a brother,son,and Lieutenant with the Waterford Fire Department.  We would like to openly extend an invitation to the Freedom Riders at this event next year.  On behalf of the Brigham family, and the Waterford Police and Fire Departments, I would again like to personally thank all of the Freedom Riders (and a special thanks to Dave Anderson) for making this event a memorable one for the family and friends of Daniel Brigham.

Respectfully,

Officer Jeffrey Boiselle

Waterford Police Department

Say "Harley"

David Anderson, retired Navy, holds his five-month-old granddaughter, Laney, as his son, Jeremy, snaps a picture and his daughter in-law Fay watches. They are in attendance of the charity motorcycle "Poker Run" which was held by the "Freedom Riders USA" motorcycle club to benefit the Military Community Youth Football League on Saturday afternoon.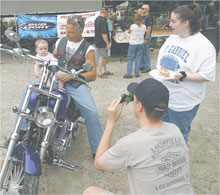 From the "Dolphin" SUBASE NLON Newspaper -  15 Aug 2004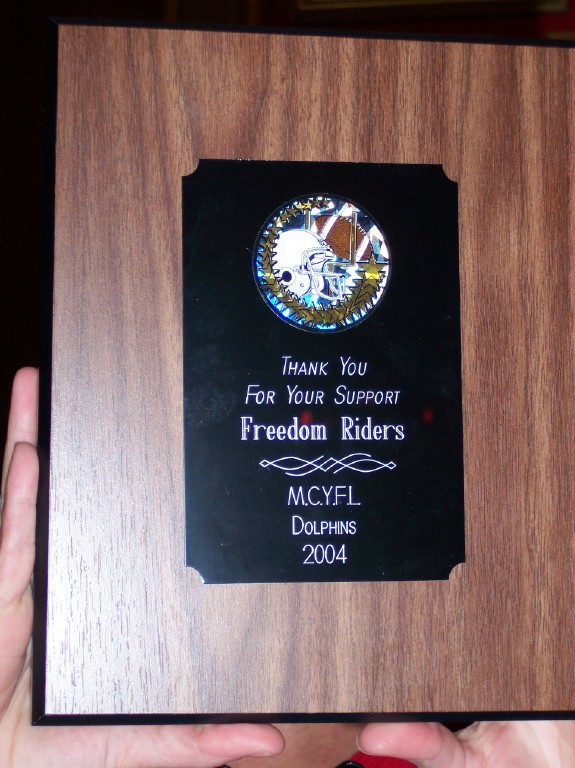 Editor:

On Sunday, Nowhere Cafe, in conjunction with the Freedom Riders USA, sponsored a motorcycle run to benefit the scholarship fund of Marine Cpl. Kemaphoom "Ahn" Chanawongse, a Waterford Marine killed in Iraq March 23, 2003.

The event raised more than $5,000. Approximately 200 riders participated. All proceeds will be donated to the scholarship fund in Ahn's memory.

Special thanks to Channel 30, the Norwich Bulletin and the Waterford Times for media coverage.

DIANE BATTE-HOLMGREN

Nowhere Cafe

New London

Originally published August 12, 2005

http://www.norwichbulletin.com/